In the predominantly male world of gay porn, both in front of and behind the camera,  how much room is there for women and why is their inclusion on screen a point of contestation? 
In my most recent film, BELLO, I invited Carla Berrocal to play the role of Pili, a secondary character who helps create a plausible setting for the storyline. I was hesitant about her inclusion because I wasn't sure what the reactions to it might be. Even though most of the crew for my movies (excluding the cast) is female, it felt as if including a woman on screen as a full-fledged secondary character fell outside the convention. This in turn got me thinking about the sparse female presence in the genre.
Women are hard to find in the mainstream gay porn industry both in front of and behind the camera, but especially when it comes to presence on screen. And one would think, at surface level logic, that this is perfectly OK, right? At the end of the day, the genre targets people who get turned on by seeing hot men get railed on screen, which also includes a considerable amount of women as audience. 
"Any attempt by the major studios to add a plot turns the film into a facile parody."
However, more and more studios are playing around with including more substantial roles for women in storylines. Many are resistant to this addition. Reception to such attempts has been mixed, with fans who like their porn as it is, wondering why they are seeing women on screen. 
Let's take a look at what female characters do for gay porn storylines. In the rare cases they are included, they serve as either comic relief or complementary to a straight-to-gay fantasy. Think "wife who gets cheated on" or "mother of a sexy barely legal twink". Among these brief performances, one stands out: Nikki V's iconic part in Men.com's Private Lesson 3, in which she says the words now engraved in gay pop culture: "Are you guys fucking? Right in front of my salad?"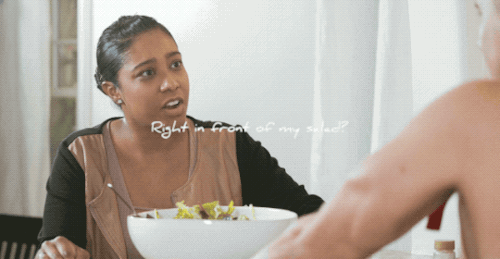 The popularity of the meme seems to be encouraging big studios to deviate from the typical "no distractions, get right down to business" approach, although it still reinforces a format where any attempt to add a plot falls remarkably flat or turns the film into a facile parody, rather than captivating the audience.
Consider this: the invisible woman in porn is such a popular trope that the American late-night comedy TV show – SNL, made a hilarious sketch about it, in which we see a starry-eyed Emma Stone pondering the backstory of her character and fervently practicing the one line she has to deliver. We then see Emma's dreams get shut down by the sharp remark of the unconcerned porn director : "[You] exist solely to be cheated on!" The sketch also shines light on the reality of the actresses, namely their anonymity. Their sparse inclusion as cast members reflects their perceived contribution to the final product in the eyes of the producers. 
There also is a large section of gay porn fans (such as on this reddit thread), for whom a woman's presence in their porn is "a boner killer". Why is this the case? It might be useful first to think about where this distaste comes from. 
It might not be farfetched to say that these attitudes derive at least in part from deep-rooted societal misogyny, especially if one argument against women in gay porn is the sight of them spoiling the sexiness of the scene. 
On a psychological level, female presence in a gay sexual fantasy might bring up deeply buried discomfort with what women represent in a gay sexual context. This in turn causes a visceral negative reaction – a defense mechanism potentially rooted in the trauma of the years spent forced to behave in ways they don't feel comfortable with. A trauma that was maybe never resolved. 
The growing meaningful presence of women in gay porn is also arguably linked to a growing queer sensitivity in the LGBTQ commminity, "queer" here meaning less rigid about convention. Truth is, the format we all know, but not all love, might be just a little too limiting and the industry seems to be growing conscious of it. The rigid structure of porn is in a process of rethinking and reimaging with the end goal to leave its misogynistic baggage behind and look towards a more queer and feminist present and future. 
"Female presence in a gay sexual fantasy might bring up deeply buried discomfort, (…) a defense mechanism potentially rooted in trauma."
But why should we have more women in porn in anyway? As a film director, I think including women in gay porn enriches narrative flow of the movies. Omitting women diminishes the vibrancy of  the cinematic universe and also robs us of a tool to tell better and more complex stories, especially in plot-driven movies, which are not made just to masturbate to.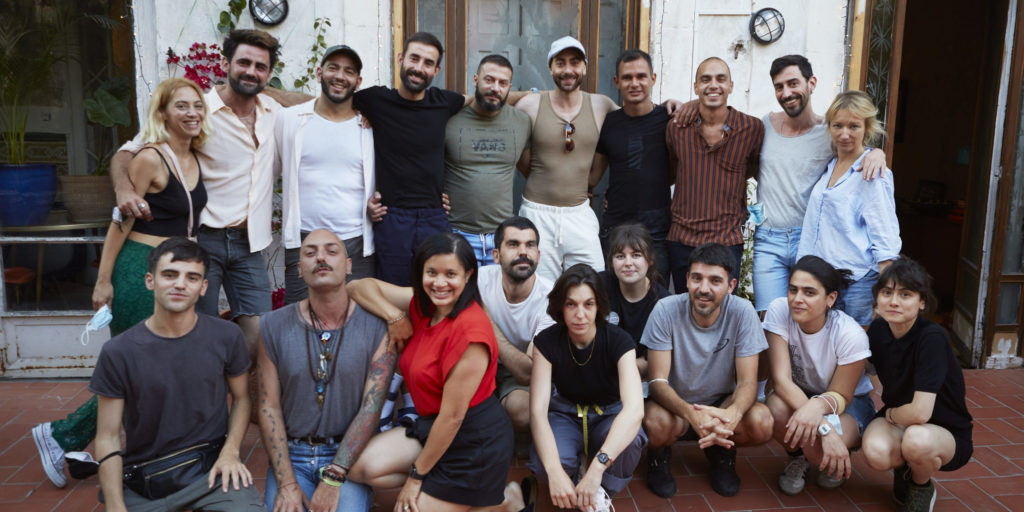 At the end of the day maybe it isn't about whether women do or do not have a place in gay porn. What we should really be asking ourselves is why has the format for porn been so stiff all along and what we have to win or lose from straying away from it. Consider this an invitation to any gay porn fan to look inwards and to keep deconstruting their preconceived notions about the genre, sadly and wrongly constructed during erratic growth in an environment that denied our right to exist and to love ourselves as we are. 
Noel Alejandro