It has been 3 months since the release of "Only Friends" and I'm happy to say it has triggered a lot of interest. How well it performed speaks to how much the audience might crave such plot-driven adult movies. For that reason we wanted to offer a wider perspective on how it was for the actors to be part of the storytelling process. As you know, "Only Friends" touches on matters like the changing modes of sex work, threesomes and open relationships — all currently hot topics. It is no surprise then that our actors had a thing or two to say on the subject. So we had a chat with them which, needless to say, gave us some interesting insight on their perspective. 
Introducing to you my dear friends Enol, Pau and Francisco.
Hey guys, thanks for taking the time to answer these questions! Let's dig right in. It is safe to say all three of you are keen on the world of gay erotica. Tell us a little bit more about yourself and what makes erotica appealing to you. 
Enol (Spain, Night bar manager, performer): I'm just a regular gay boy living in Barcelona, who as many others has been through a harsh time during the last two years, and who's trying to survive managing a night bar and doing some porn. 
As a gay man, I've been exposed to think about sexuality, not just sex, from very early on my adolescence. That brought me to a point where I decided to embrace my fears and taboos about sex and explore them. I truly believe that porn is a good way to get deep in all the misconceptions that we all have inherited from patriarchal traditions, like judeo-christianism but not only; about our bodies, our nudities, our pleasures and our arousals. Erotica is a way to be in this world and to challenge it, to bring people in front of a mirror, which may be uncomfortable, but that contains, in my opinion, a lot of truth about their own lives. 
Pau (Ecuador, Marketing student): I grew up on a small beach in South America. Currently, I am finishing my masters degree in Marketing and thinking about studying interpretation, which has been my dream since I was a child. 
To answer the second question, personally, what draws me to adult films are the sexual fantasies: they could be way more realistic and reachable. 
Francisco (Venezuela, Dancer, model): I grew up on a Caribbean island in Venezuela. I have always been passionate about art and I was lucky enough to become a dancer. As an adult I started working with photographers and since the image of the dancer was always (and continues to be) sexualized, at one point I decided to take advantage of it. For me, my body is the tool I have to make art, and that's what I try. Make art, whether it's dancing or an adult movie. 
When I was a child, I saw one of Pier Paolo Pasolini's films, One Thousand and One Nights. I remember that I was very impressed to see sex scenes, or male genitalia in a movie, that told a story, I think it was my first experience with erotic cinema. I was shocked to see complete nudity, genitalia also represented with so much art. 
Sex is a very beautiful and complex part of our species, and I think it can be used as a medium to make art and tell amazing stories. There are many artists who did and continue to do so. Robert Mapplethorpe, Tom of Finland, Helmut Newton… and so the list goes on to this day, including young creators like Noel.
"For me, my body is the tool I have to make art, and that's what I try. Make art, whether it's dancing or an adult movie."
You are the stars in Noel's latest film, Only Friends. Tell us a bit more about your experience. 
Pau:I fell in love with Noel's films the first time I saw one of his masterpieces. The way Noel sees sex, he is able to transmit all the emotions that are involved in sex. Filming was a bit challenging for me because it was the first time I had sex in front of people. Luckily Noel's team is very professional, which made it easier. 
Francisco: When I discovered Noel's work, I really liked the way he uses sex to tell stories. There is a lot of care for aesthetics, which I think is the big difference with other content. 
Noel's previous film, BELLO, was my first time ever filming a sex scene. I'm not an actor, so building the character and understanding everything I was going through at that time was a challenge and quite a rewarding experience. Noel's team and the rehearsals we had before the recording helped me to be more confident on the day of the shoot.
Enol: For me, Noel's work is aesthetically impeccable and stimulating, which is why I wanted to work with him for a long time. So when I got the chance I went straight for it. I loved the process, especially the rehearsal the day before filming. And it's a pleasure to work on erotica with such good production. I never understood why porn seems almost immune to the improvements in cinema for the last 4 or 5 decades. It lost the little 'respectability' it had during the so-called "Golden Age of Porn", prior to the 80's AIDS epidemic. Since then, porn has been in a weird place, mainly being about jerking off. Luckily, there's people like Noel that prove it can still be an art form.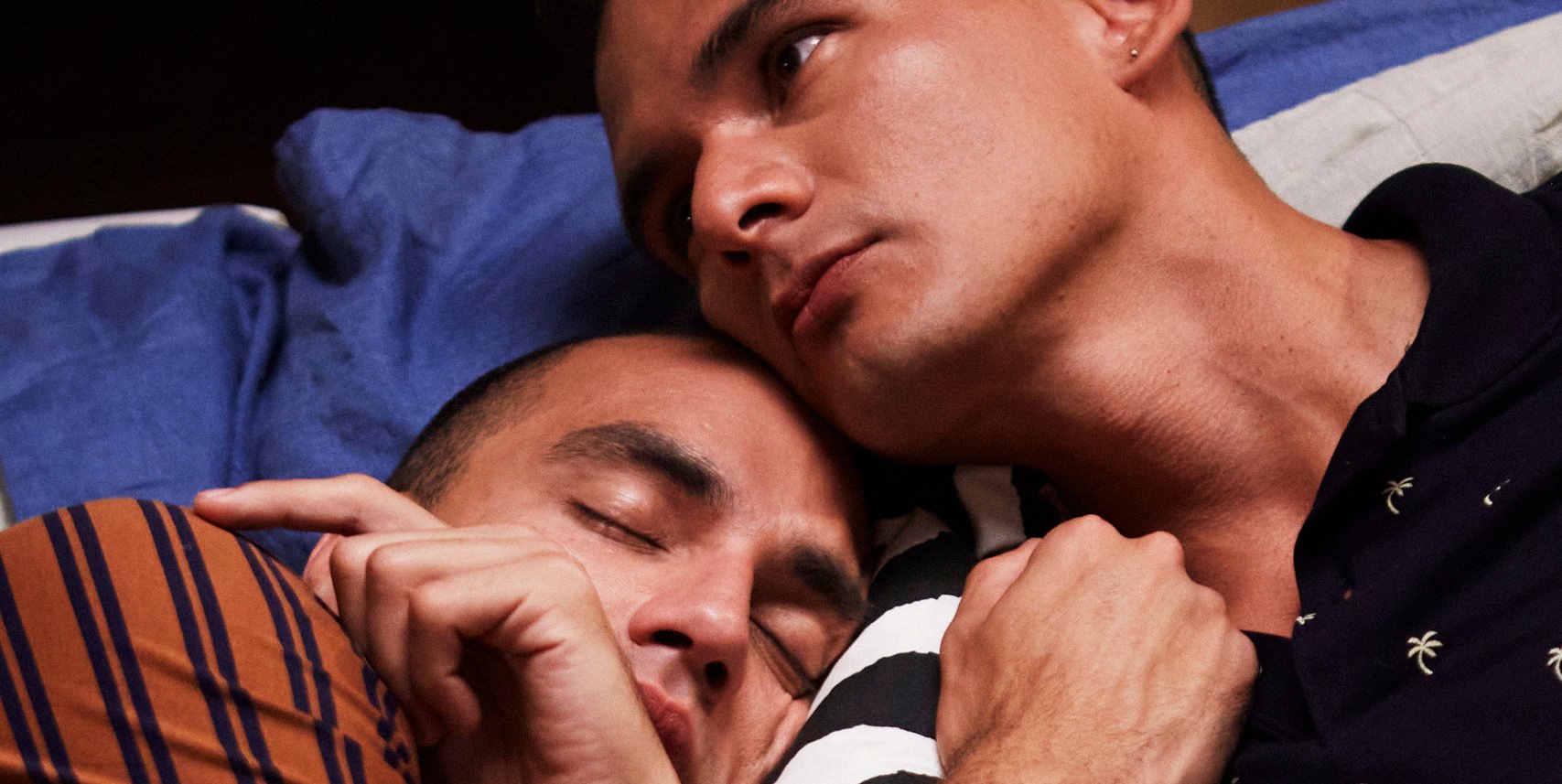 What's the most enjoyable part about filming porn? 
Francisco: It is a strange experience to have sex outside of your privacy, or your own pleasure. I think you discover a lot of things about yourself in the process. It's rewarding.
Pau: For me it's simple: to be able to watch again and again the moment I was at my highest level of excitement.
Enol: Being the egocentric hedonist that I am, the most enjoyable part for me is to know that I will be able to watch it in the future looking young and hot forever.
The plot of the film revolves around two of the characters being in an open relationship. Are these kinds of stories something you feel is missing from mainstream porn?
Enol: No, I don't think these kinds of situations are missing in mainstream porn. But they are used only as an 'excuse' to show to the viewers the real deal, which is short shots of hard cocks penetrating assholes and a lot of jizz. In mainstream porn the story and the dramatic acting have no importance at all, which I find disappointing.
Pau: I agree. To be honest, I don't pay attention to the stories that are told in mainstream porn [laughs], I just go straight to the penetration part. But what I love about Noel's films is his perfection in sound, lighting, photography, etc. His stories catch my attention and make me see the whole story and feel identified with some characters. 
Francisco: Yes, I think that in gay porn there is always a series of stereotypes, we almost always see the same types of bodies or sizes of members, and very few stories are used. I also understand that porn has a purpose, and sometimes when you consume that type of pornography you are not interested in telling a story. I think gay sex in general can be dehumanized a bit. Every time sexual encounters are made in a more impersonal way. It is good to remember what unites us as people.
"I truly believe that porn is a good way to get deep in all the misconceptions that we all have inherited from patriarchal traditions; about our bodies, our nudities, our pleasures and our arousals."
Another plot point in the film is one of the characters making an OnlyFans account. Is there a stereotype about OnlyFans creators you'd like to debunk? 
Pau: I have an OnlyFans myself and some of my friends think having one is like being a prostitute. I have nothing against prostitution, but to me having OnlyFans is like sharing a part of my life and the people who want to pay to see it would be more than welcome. I actually don't consider myself a sex worker. My OnlyFans account is like my sex diary, I created it for me and for my enjoyment.
Enol: Although I also have an OnlyFans account, I'm not a huge fan of it. I see it as a first step towards normalizing sex and sex work. And about the stereotype it's quite simple: OF creators are not sluts, but every single human being is. Some of us are just "honest" enough to admit it.
Francisco: If you decide to publicly sexualize yourself, for whatever reason, you become a "type of guy". If I had an Onlyfans tomorrow, I'd still be the same boy from Margarita who dances. Sometimes we forget that what we see on a screen is only part of the person behind it. Often just a character.

"Erotica is a way to be in this world, to challenge it by bringing people in front of a mirror that may contain a lot of uncomfortable truths about their lives."
During the last two pandemic-marked years, the space for arts and culture in the media has tangibly decreased, among other things, posing difficulties for artists. Now we are hearing less of the pandemic, but only because a different kind of crisis has emerged with the war in Ukraine. What are your thoughts on this? 
Pau: You mentioned two big problems that we as human beings are dealing with right now and we tend to be more focused on issues like those plus the fact that the mass media unfortunately most of the time is biased. Luckily we have social media where we can do a lot for arts and other fields.
Enol: I'm not sure if I agree with that assessment, honestly. Luckily the mass media are not as few and as powerful as before. So there are a lot of different spaces to express ourselves outside mass media, a lot of new ways to reach your potential public. And on the other hand maybe art is having a problem between the elite who pay for it and the people who enjoy it. I feel some disconnection in what is considered officially art and what it's really such a thing.
Francisco: I am a survivor of a fairly complicated crisis, the political situation in my country forced me to leave it. The world becomes a more hostile place every day, the decisions of the leaders are more and more terrifying. In the midst of all the disaster, other things are prioritized, surviving is the main thing. But I think that the arts and entertainment add us much more than we think. They are also necessary in the most complicated moments. We live in a very complex moment, but we still find a way to continually evolve as artists.
The pandemic brought change to the world, shifting the focus of arts online and giving rise to platforms like OnlyFans. How have these unusual times affected you as an artist and/or sex worker? And do you see the current conflict in Ukraine having any direct or indirect effect on the sex industry? 
Francisco: I think we are living through a very complex historical moment, I think it affects us all, or it will affect us in a way that perhaps we do not know. I don't consider myself a sex worker, but as an artist I think I am in a very complex moment to develop my art.
Enol: Well I have to say that at a great economic and personal cost, the whole pandemic situation has pushed me in pursuing my goals, which include porn and other forms of sex working. And about the Putin's aggression I can't see any effect on the sex industry by the moment, I don't know.
Pau: The conflict in Ukraine has affected everyone. I have noticed that some platforms are helping Ukrainian creators by giving them a 100% of the income but, on the other hand, some creators are using the Ukrainian flag in their profiles to catch the attention even when they are not Ukrainians. It makes me mad to see that they are trying to take advantage of that horrible situation just for their own benefit.

What's next for you? Any dreams or upcoming projects you would like to share with us? 
Pau: Finishing my studies and getting to work in my field of studies and, of course, having the chance to be part of a new film by Noel.
Francisco: After two years without dancing, I'm coming back, I want to live my stage as a dancer while I can, and I hope to continue exploring other ways of making art. I would also like to make more films with Noel and continue exploring this type of eroticism. 
Enol: I do have some upcoming projects, yes, but I don't want to share them until they are more mature. What I'm doing now is managing a gay bar in Barcelona, called Rufián; and trying to propel my OnlyFans, but I'm not sure how I want to do it yet [laughs]. 
Watch "Only Friends"by Noel Alejandro here.
Follow Francisco Gabriel on Instagram.
Follow Enol Domènech on Instagram, Twitter and OnlyFans.
Follow Pau Alonso on Instagram.